3 Ways to Reduce Transport Costs & Increase Productivity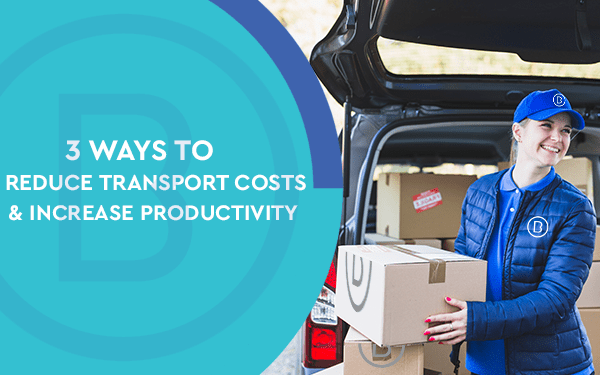 Every business aims to generate revenue by selling its products or services. The only way to increase any company's revenue is to cut down the production and transportation cost. In other words, the optimization of logistic operations must be the topmost priority to keep a business financially viable.
Companies must rely on smart logistics management practices to meet today's high consumer expectations and unpredictable global business environment.
You can put these activities in place yourself if you have the time and money. You can also outsource to a logistics company that will enforce these activities for you if you want to save time and money.
Even if you completely outsource logistics, it's important to know what some good practices are and recognize if you're working with a reputable logistics company. Implementing these practices would ensure that services are maintained at the desired standard regardless of the circumstances.
It is possible to reduce transport costs and increase productivity when it comes to running your business. These three ways will help you do just that:
1. Use Different Mode of Transportation
Flexibility in your mode of transportation will help you save money in ways you might not have considered. Sea freight is usually less costly than air freight. However, keep in mind that the time it takes could cost you sales. It is better to keep an eye on the prices of various modes of transportation and not be afraid to turn.
Intermodal transportation is a choice that shippers might not have considered because they are typically focused on a single mode. For example, rail transportation is generally less costly than trucking; combining the two may be the most cost and time-effective option.
Another benefit of mode flexibility is that it reduces your reliance on more costly shipping options. If a consumer requires a portion of what you send earlier rather than later, you will most likely expedite the entire shipment. However, you may be able to save money by expediting only the freight that needs to get there quickly and send the rest of the shipment through less costly modes.
2. Automate your Logistics
If you can monitor or track your shipments from the time they exit your door to the time your customer receives them, you can easily see where exactly the trouble is in your transportation logistics. It will also provide you with real-time details about unforeseen delays, enabling you to respond more quickly and efficiently.
Logistics software makes it easier to track your products, keep records, and manage your supply chain. With some software, you can even create a digital version of your organization's inventory and manage products like they were physical items in the real world.
A shipper must choose the shipments' routes, schedule the delivery of the loads, tender loads to the cargos, and complete all necessary paperwork for their company. Instead, Logistics software can help create shipment route charts, ensuring that suitable carriers are chosen, and the most efficient shipping mode is used.
Logistics software can also automatically compare the audit of a freight invoice to the shipping contract, allowing the company to save money by avoiding paying fees for services that are generally not included within the quote provided.
The advantages of logistics software are that it can manage immense volumes and eliminates the need for paperwork. Automation also helps in the more stable and successful operation of processes.
The myBLUORBIT system is a logistics system that improves first-time delivery success in several different ways, including allowing customers to choose their preferred delivery windows and track their package delivery statuses. The online portal also includes a customer dashboard feature that helps customers monitor their delivery and review their shipment progress.
3. Find a Transportation Logistics Supplier
Your company's core competencies cannot lend themselves well to controlling shipping costs. However, it is the responsibility of a transportation logistics company to keep up-to-date choices and versatility in ways that make exporting your transportation less expensive than doing it in-house.
Outsourcing logistics allows a company to concentrate on its core competencies rather than allocating effort into managing the non-core yet important functions. Your company will benefit from finding transportation logistics suppliers without hiring internal resources.
Another benefit of finding a transportation logistics supplier is that it allows businesses to use supply and distribution services based on current business requirements with versatility and scalability. When sales are down, there are no redundant investments or underutilized capital, and when demand spikes, businesses can scale up.
Logistics suppliers in supply chain management encourage business growth by providing businesses with access to markets where they do not yet have a presence. Being able to handle inventory in a new market without having to invest in warehousing, machinery, or human resources will save money, as well as the time and effort required to learn the logistical complexities of a new market.
Bluorbit serves as a logistics consultant that ensures to balance your supply chain and guarantees to keep your costs low. By outsourcing your logistics needs to Bluorbit, you can successfully meet your business requirements using myBLUORBIT in-built logistics software, and rest assured that your shipments are delivered timely and safely using multimodal transport covering both Domestic and International transactions.